卧龙岗学习、生活记——14级翻译 汪函旭
发布者:
发布时间:2015-12-03
浏览量:次
大概是长这么大第一次离家这么远这么久吧,在异国他乡一个人待几个月确实能学到不少东西。刚来的时候,从夏天到冬天,各个方面还有点小小的不适应,晚上也很少出门,有的时候确实会觉得有点无聊。但是澳大利亚人都特别热情,后来就去参加他们组织的一些活动啊party啊,认识了一些本地人一些国际学生,大家人都很nice,有空的时候会跟他们一起聊天、打牌、锻炼看电影,宿舍的文化传统很好,定期都会有同学组织活动,所以生活也还挺充实的,还认识了各国的同学,从聊天中可以了解到各国文化,探寻文化差异。其实这边课程倒不是特别紧张,每周自己的空闲时间还比较多,大学嘛学习主要靠自己咯,学习之余呢,有时候也做做饭改善一下伙食,在国外时常会想念大武汉的美食啊。虽然这里空气好,阳光好,但是我还是好想回家吃东西XD。在澳大利亚旅游的时候都还到处找中国餐厅呢哈哈哈~不过我回去应该会被冻傻吧==还有三个星期就要回家啦,觉得有这样的一次体验机会挺难得的,不仅可以增长见识还能锻炼自己的独立能力,肯定会是人生中很难忘的一段经历的~~
---
It feels like a second but actually more than three months since I came here. I arrived in Wollongong on July 17th as an exchange student. After a long flight, I felt dizzy and tired, but people from University of Wollongong were really friendly and helped me get to my dormitory.
In the first couple of days, I settled down and got to know my neighborhood. At first I found it so quiet because there are few people here. But in the following week before enrolment, I took part in Flood Week activities organized by senior residents. New students from all over the world came together and became friends. People here are all very nice and always have fun partying.
Some of the activities organizers.
On July 27th, the term began. The campus is not very big but beautiful. Students come from all parts of the world. The teaching system there is quite different from that in China. Every course has a lecture session and a tutorial one every week. Students usually take about four courses in one semester. We have to do a lot of studies by ourselves after class, like reading textbook and discussing in groups. The one thing here that we don't have in China is PASS (Peer Assisted Study Sessions), in which students organize their own classes to review the things they have learned to help each other pass the course and maximize their scores.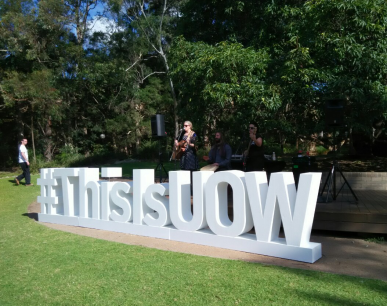 Campus of University of Wollongong.
Apart from studies, students also go to the gym or go hiking together. There are usually a lot of activities going around, and you'll never feel bored. I attended several seminars about interviews, presentation, and academic writing, and learned a lot.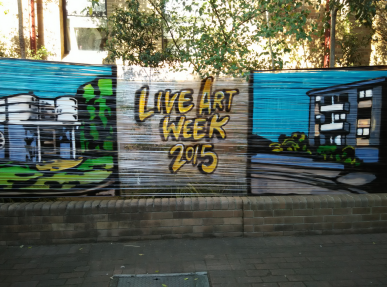 Live Art Week on campus
During my stay here, I have traveled to several places with my friends in our free time. We went to Sydney, visiting Sydney Opera House, shopping in Queen Victoria Building, and enjoying the sunset at Darling Harbor. I also spent two weekends at an Australian friend's home, one at the seaside and one in the Blue Mountains. It's so great to live by the sea or in the mountain. Their families celebrate Christmas in August so I'm lucky to see what a real Christmas is like. And I learn something about baking as well.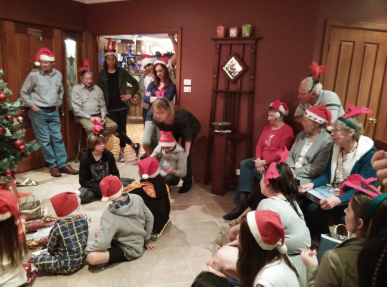 Christmas in an Australian family.
My experience in Wollongong so far has broadened my horizon, getting to know many things from different cultures. I also love the beautiful places and kind people here. Time flies, and it's already about time to leave. I believe this will be a very unforgettable experience in my life!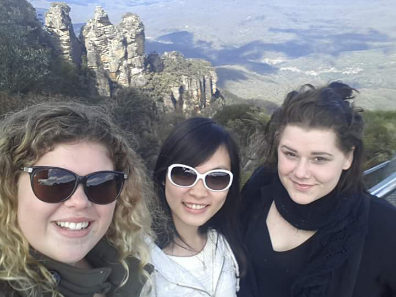 Three Sisters in Blue Mountains
指导老师:汪涛